One sunny day several months ago, my partner decided he just had to check out the new Mazda MX5 and towed me along to the nearest showroom. Whilst we were there, I fell in love with the CX7 but that is a story for another day as I was instead, firmly steered towards the MX5 which stood ready for a test drive.
We drove sedately enough out of the gates, but once we were on the road he put it through its paces. Suffice to say I had a death grip on the armrest by the time we slowed and turned into a residential area. As the road turned out to be a dead end, we needed to make a three-point turn to get back out onto the main road.
It was at this point that my partner realised he couldn't put the car into the reverse gear.
"What do you mean you can't put the car into reverse?!?" was my calm reply.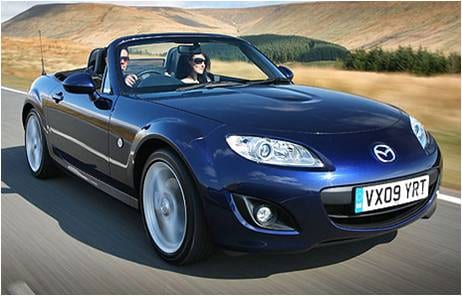 He pointed out that the sixth gear was where the reverse normally was (it was a manual car), and the indicated reverse gear was to the left of first. Only the gear stick wouldn't move any further left than first gear. I wasn't convinced until we had made several jerky movements forward until we were merely centimetres away from someone's garage door.
As my partner tried to call Mazda to find out what to do with the gears, I was frantically looking through the car for a manual. Thwarted, I moved the search to the internet on my mobile. Then, we heard a car horn behind us. The owner of the garage (in a massively intimidating Hummer) wanted in. We had to explain the problem to him and he was all ready to tow us out. Finally, Mazda rang us back. It was easy, he said. "Just press down on the gear and hold whilst shifting it left".
Just in time. The owner of the garage had had enough. I was scared to death that he would attempt to tow us out and break the bumper making us liable for the damage! We sat in embarrassed silence all the way back to Mazda.
"Well, we're here," I said.
"Yes. Yes we are."
"You know it wasn't our fault right. The label doesn't say anything about pushing down…"
"They're still going to laugh at us."
When a design defies established conventions, there needs to be a obvious indication of how the new design works. Clear concise labelling can be important for guiding the user in learning to use it.