As a UX researcher with an industrial design background, I sometimes reflect on my journey to get here. Recently, I have been thinking about what the Venn diagram might look like between the fields of industrial design and UX research, and I have been giving lots of consideration to where these two practices align.
So, I did what anyone would do in early 2023… I asked Chat GPT, and this is what it told me:
"When it comes to designing products that are both visually appealing and functional, industrial design and UX research share many similarities. While operating in different domains the two fields overlap in their focus on the user experience, problem-solving and innovation."
At its core, industrial design could be described as the practice of creating concepts that fulfil both an aesthetic and functional role, as defined by their brief. Industrial designers traditionally have applied principles of engineering, material science, business data and visual art to create products and systems that are thoughtful, usable, durable and beautiful. They focus on understanding user needs as well as market trends and technological advancements.
Similarly, to industrial design, UX research is concerned with understanding user needs, expectations and motivations in order to create products that inspire, delight and embrace their user whilst achieving business goals. Additionally, both practices share a commitment to innovation, striving for product enhancement through qualified feedback data and contributing to concept generation.
UX researchers use a variety of techniques to uncover insights that are familiar to industrial designers, and whilst nomenclature and terminology may differ, both disciplines focus on understanding user needs and designing products that meet those needs.
In my opinion, it could be argued that the most important element that industrial design and UX research share is a drive to identify pain points experienced by users in their everyday lives and then surface them.  Whether this is designing a more ergonomic computer keyboard, a more comfortable kitchen chair or piece of furniture or a more intuitive mobile app, the goal is to create products that solve real-world problems and improve the user experience.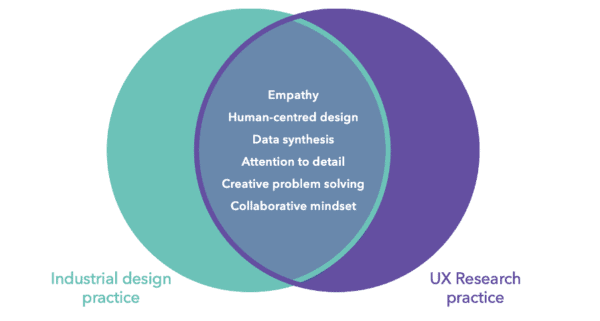 By combining these overlapping skillsets, both UX researchers and industrial designers help create products that truly meet the needs of users
Some of these shared common attributes between both practices are outlined below. Whilst not a comprehensive list, these characteristics embody the approach, skills and general curiosity inherent to both fields of expertise;
Empathy: Given that UX researchers and industrial designers have the unique opportunity to shape and influence the future technologies they are involved with, it is hopefully not a coincidence then that both practitioners are typically passionate about having a positive impact on people's lives
Human-centered design: Industrial designers are trained to take a human-centred approach to design, focusing on the needs and desires of the end user. This same approach is critical to how UX researchers conduct effective practice, which strives to empower the needs, motivations, and behaviours of users
Data synthesis: Strong data analysis skills are required of both UX researchers and industrial designers to synthesise and make sense of both quantitative and qualitative data sets. Combining these skill sets with a general curiosity allows practitioners in both fields to gain deep and evolving insights into how users engage with products and systems
Attention to detail: Experienced industrial designers should inherently have an eye for detail, from the shape and texture of a product to the placement of buttons and other controls. This same attention to detail is required of UX researchers and is crucial to their practice, where even seemingly insignificant details can have a big impact on the user experience
Creative problem-solving: Industrial designers are expected to be skilled problem-solvers, with an ability to conceptualise innovative solutions to complex design challenges. This same creativity, curiosity and problem-solving ability are invaluable skills exhibited by UX researchers, where practitioners deep dive, identify and surface user pain points and other issues that may be affecting the overall user experience
Collaborative mindset: Industrial designers are typically highly collaborative, working closely with engineers and sales/ marketing teams to bring products to market. This same collaborative mindset is a valuable asset in UX researchers, where they usually find themselves working closely with designers, product owners/managers, developers, and other stakeholders to design and test hypotheses, prototypes and other stimuli to correlate findings
As the Internet of Things (IoT) overlays more of our everyday products, the intersection of these practices becomes increasingly important, as do opportunities for businesses to leverage these similarities between industrial design and UX research. Industrial designers, with their expertise in creating products that are both functional and aesthetically pleasing, are intuitively positioned to align with the practice of UX research… in my very biased 'foot in both camps' opinion.